GIFT MARKET
A beverage that is now renowned for not just its therapeutic attributes, but also for its epitome of sophistication, tea is now staple for millions of people all over the world – a drink that is enjoyed anytime and with anyone, regardless of what time of day it is or occasion. Henceforth, one can never go wrong by presenting tea as a kind hearted compliment to a loved one; possessing the divine charm to express what a thousand words cannot, the ideal gift is assured to touch someone most profoundly, and with a great deal of affection, indeed.
Qualitea's range of tea assortments are specifically customised with the thoughts and sentiments of the individual that's extra special – from classics such as English Breakfast to novelties such as fruity or herbal, our gift packs are elegantly adorned amidst attractive packaging, such as handmade wooden boxes or metal cans. For more details, feel free to send us a line over info@qualitea.lk , and we will be glad to respond to your queries.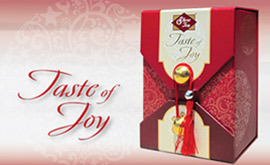 The journey of one man who wanted to make " Tea " a medium to bring nations and cultures together, began in 1989, in pursuit of his dream. Traditional blends were re-invented, forgotten recipes were un-earthed and where necessary, new trends were set. From English Breakfast to Raspberry Twist with Rose Petals, from robust Best of Ceylon's to Spicy Moroccan Fusion and from best of Orange Pekoes to Magic Fruits with Rooibos were un-veiled.