BULK TEA
As exports of tea in bulk quantities was our first and only specialty during our company's inception, this service has further been enhanced ever since then to adapt to an ever changing consumer trend and thereby stay on par with what's in vogue for today's generation of tea drinkers – both young and old alike. With a large variety of teas now mass produced under our very own brands of Qualitea, Shere Tea and Genex, our globally oriented presence which spans across all of Asia/Asia Pacific, the Gulf, Europe, Africa and the Americas have elevated our stance to concisely deliver ideal teas to a wide range of consumers, rest assured.
In addition to supplying tea of its very best flavour, aroma and strength, we also partner with our customers to assist them in promoting all tea products; with the likes of campaigns and other promotional resources such as complimentary samples, gift packs and stands at stores, we strive to pursue the extra mile in helping our clients take Qualitea to a wide range of prospective entities, and to the rest of the world. If you would like to know more about our brands and how we supply in bulk, please feel free to drop us a query by clicking on the 'Inquire' button at the top right-hand corner of this page, or by sending us an e-mail at info@qualitea.lk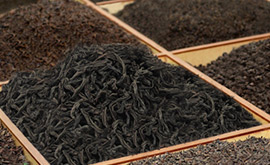 The journey of one man who wanted to make " Tea " a medium to bring nations and cultures together, began in 1989, in pursuit of his dream. Traditional blends were re-invented, forgotten recipes were un-earthed and where necessary, new trends were set. From English Breakfast to Raspberry Twist with Rose Petals, from robust Best of Ceylon's to Spicy Moroccan Fusion and from best of Orange Pekoes to Magic Fruits with Rooibos were un-veiled.